8 Easy-to-Follow Tips for Dry Eye Care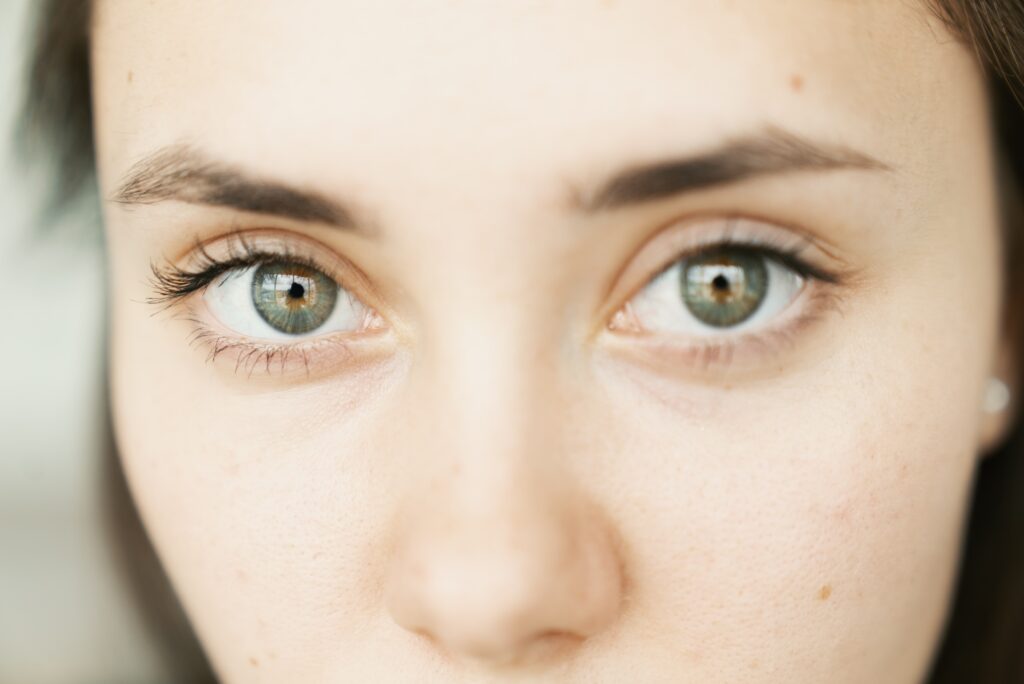 Dry eye issues can strike year-round, but the cooler months undoubtedly arrive bearing a drier climate and decreased eye comfort.
Our goal is to provide you with a holistic approach to eye care. With indoor heat firing up, we know that means dry eye issues can begin to flare as well. To keep your eyes comfortable this winter, we're sharing these 8 non-prescription tips you can use to help reduce your dry eye symptoms.
1. Keep yourself hydrated.
Water is essential when it comes to combating dry eye disease. Tears consist of water, so staying hydrated helps the body produce more tears and fight against dryness. Drink a glass of water before or with your morning cup of coffee to get a head start on your daily hydration, and continue drinking water throughout the remainder of the day. Fruit and other foods are also excellent sources of electrolytes that aid in hydration; some even carry vision benefits, so be sure to enjoy some berries, watermelon, and more throughout your day!
2. Instill artificial tears throughout the day.
Artificial tears are a fantastic way to keep eyes hydrated throughout the day. While most drops are safe to use multiple times throughout the day, some patients experience sensitivities to the preservatives found in them. If you need to apply drops over four times a day, try using a preservative-free variety to limit possible irritation. Another thing to remember is to avoid using "red-eye" drops, such as Visine. These drops merely cover up redness rather than hydrating the eye. They can also have a rebounding effect causing the eyes to become redder after prolonged use. Most artificial tears are available at the store, but you can ask your eye doctor for their specific recommendations.
3. Add moisture to your environment with a diffuser.
Air conditioners in the summer and heat in the winter significantly impact the dryness level of our eyes. Adding humidity to the air around you can help the eyes be comfortable throughout the day. Keep a diffuser with essential oils running in your bedroom and at your desk to add extra moisture to your environment; this will prevent your eyes from drying out and create comfort in your environment. Lavender oil is known for its calming effect and is an excellent choice to calm your agitated eyes.
4. Practice blinking exercises.
Plenty of dry eye issues and discomfort can stem from using digital devices. While using digital devices, our blink rate drops dramatically, allowing the eyes to dry out quickly. When using a computer, try practicing the 20/20/20 rule. Every twenty minutes, look at something 20 feet away for 20 seconds. To encourage yourself to take breaks, set a timer while working. Another blinking exercise worth trying is simply blinking rapidly for 30 seconds. For the best results, be sure that your eyelids close completely. Challenge yourself and set a timer for 30 seconds – then blink, blink, blink!
5. Incorporate a healthy diet with lots of Omega 3s.
While battling dry eye syndrome, many eye doctors recommend getting plenty of Omega 3 fatty acids in your diet. Supplementing with a quality fish oil or flaxseed oil can give you a boost when it comes to treating dry eye symptoms. Additionally, eating a healthy diet full of fresh fruits and vegetables can assist in regulating your body and providing it with other nutrients that promote eye health. To get the most eye-friendly benefits from your diet, incorporate fish, flaxseed, avocado, berries, sweet potatoes, and citrus fruits.
6. Add warm compresses to your daily routine.
Warm compresses help soften the oil (meibum) found in the meibomian glands of the eyelids. These oils keep tears from evaporating too quickly. Softening the oil helps the glands function adequately, produces quality tears, and decreases dry eye discomfort. We highly recommend using a Bruder mask (you can find one online or in our office) because it's easy to use and super effective. An added benefit of doing warm compresses is that it invites some much-needed relaxation into your day! Just heat the mask, place it on your eyes, and rest for a few minutes while it does the work for you!
7. Keep your eyes clean with daily eyelid washes.
Throughout the day, debris can settle onto eyelashes and block the meibomian glands; that settled debris can also be an eye irritant. Cleaning your eyelids twice a day can alleviate eye discomfort and prevent blepharitis, a common cause of dry eye disorder. Manufacturers like Ocusoft make it easy to gently and thoroughly clean eyelids by using their individually packaged wipes with antibacterial properties. There is also an eyelid wash available called Pure N Clean (you can purchase it in our office), made from Hypochlorous acid, which gently cleanses and disinfects the eyelids. Implement daily eyelid cleanses to clear irritating debris and promote overall eye comfort.
8. Visit your eye doctor annually.
While you can help manage your dry eye symptoms with the first 7 steps, it's paramount to see your eye doctor regularly. Their goal is to provide you with thorough eye care, not only to prescribe eyewear. Be sure to contact your eye doctor if you experience pain, tenderness, swelling, discharge, or blurry vision, in addition to your yearly eye exam.
Creating a healthy lifestyle and environment is one of the first lines of defense against dry eye discomfort.
Between these tips and more personalized recommendations from your eye doctor, you can be confident sure to find some relief from the dry-eye disorder. While dry eye issues can occur point, implementing these recommendations as we head into winter can help cultivate eye comfort throughout the year.