5 Tips to Help Your Child Adjust to Eye Exams and Glasses
Getting glasses for the first time is a big task for anyone. Getting eyeglasses as a child can feel monumental. 
How do you keep your child from feeling overwhelmed when they find out they need vision correction? We've come up with 5 ways you can help your child ease into wearing their new eyeglasses.
1. Talk to your child about their eye exam and eyeglasse
s.

"Is the eye doctor covered in eyes?"
~4 year-old patient
Most of us know what an eye doctor is, but kids often see things a bit differently.
When visiting an eye doctor for the first time, children are often nervous and might even wonder what an "eye doctor" is. Remind your child that there is nothing to be nervous about and that seeing the optometrist should be fun! Explain to your child that there is no "right" or "wrong" during their eye exam: the purpose is to know if they need help seeing clearly. Be sure to help your child recognize that glasses are neither a punishment nor a prize – they are a helpful tool. 
Describe to your child what will happen during the eye exam.
The doctor will have them play some games to check how well their eyes see. Then your child will try on a big pair of glasses to determine if it improves their vision. Finally, the doctor will use a special flashlight to look at the back of your child's eyes. 
Preparing your child for the eye exam can calm their nerves and help them feel more ready to have their eyes examined. 
2. Give them ownership and let them pick out their glasses.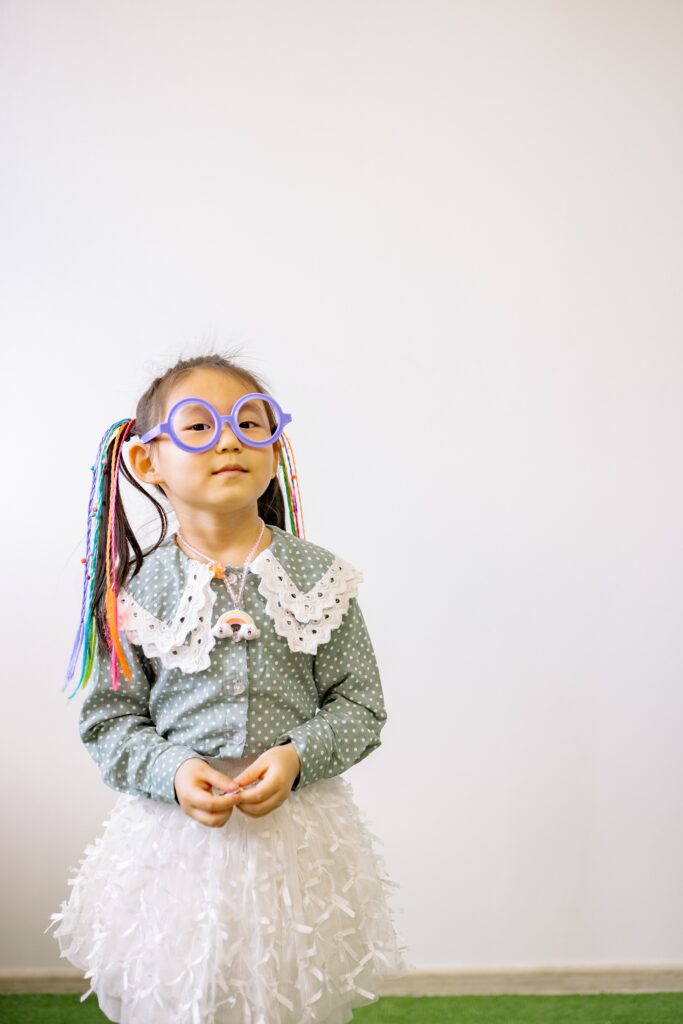 Part of giving your child ownership is allowing them to pick out their eyeglasses. If your child feels forced into wearing eyeglasses that they don't like, getting them to wear their glasses will be a considerable challenge. While most adults look for eyeglasses that blend in, the purpose of kids' eyewear is to stand out and be FUN. 
You'll often find youth eyewear in lively colors of blue, green, pink, purple, and unique shapes and patterns. Ask your child what color frame they want and ask your optician to recommend correctly sized frames in that color. If your child feels like they are choosing their eyeglass, they'll be much more likely to take care of them and wear them regularly. 
3. Show them i
nfluential people that als
o wear eyeglasses.
Everyone has a hero. Most of us have several people we admire. But how many of them wear eyeglasses? 
Think about this from your child's perspective.
Who are their heroes? Do they wear eyeglasses?
If your child is struggling with their new glasses, make a list of all the people they love and respect who also wear glasses. It could be someone famous, a book character, cherished family members, even a favorite teacher or friend. Urge them to think of as many people as they can that wear glasses. Then, encourage them to show off their new specs to those important people in their life!

4. Check-in with their teachers
No one likes a tattle-tale, but if your child needs to wear their glasses at school, be sure to talk to their teacher about their new eyewear. Their teachers can help remind your child to wear their glasses during the school day. If your child doesn't want to wear the glasses at school, you can talk about why they don't want to wear them. Understanding why your child does not want to wear their glasses is the key to motivating them to wear their glasses and help them see their best. Once you know why they don't want to wear their glasses, remind them how their glasses give them the superpower of clear vision!
5. Ask your eye doctor and opticians for help.
Let's face it – if your glasses were uncomfortable, would you want to wear them? A correct fit is essential for eyewear to work accurately. 
Your optometrist's office will be your best friend when it comes to your child's eyewear. They will help select frames that fit your child and encourage your child about how cool their new glasses will be. They can also adjust the glasses and show your child how to care for their new eyewear. With the help of your optical team, your child should leave your doctor's office excited about their new glasses!
Visiting the eye doctor and getting new glasses doesn't have to be scary for little ones. To help ease your child into their eyewear, describe the eye exam to them before their appointment. Allow them to pick out their glasses to give them ownership and motivate them to wear their glasses. Finally, encouragement from you and the optical team is the best help to ensure your child wears their new eyewear with confidence!
Now that you and your child are ready – schedule their eye exam today!
And don't forget to join us for our Back-to-School sale: Aug 9th – Sept 30th