Your 4 Step Guide To Buying Eyeglasses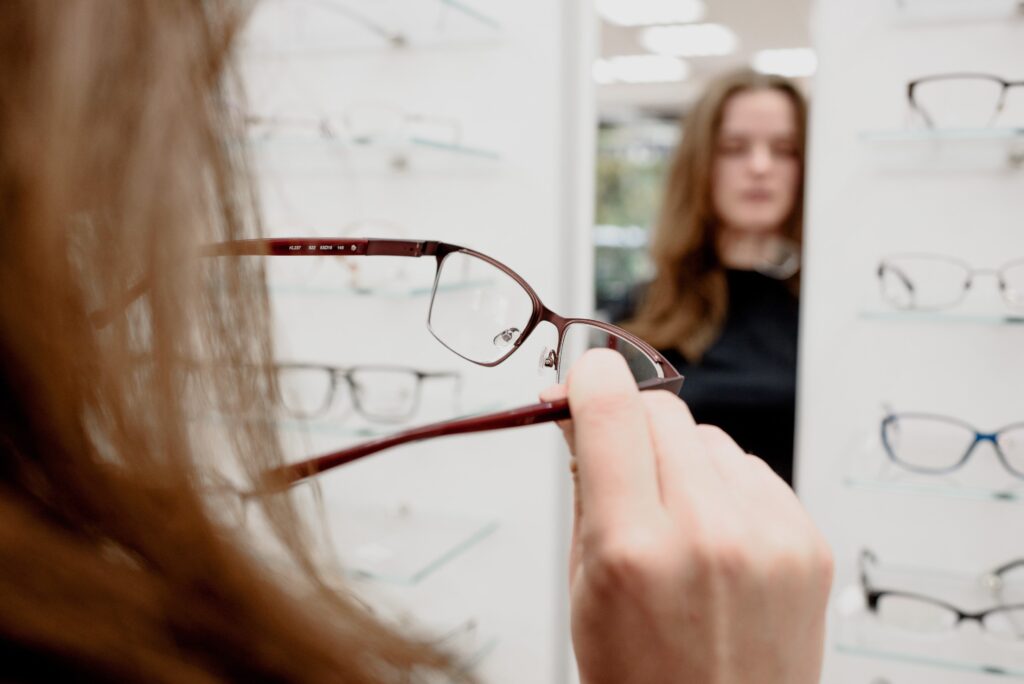 Imagine this:
You've concluded your eye exam and the doctor says that your prescription has changed. He mentions something about "anti-reflective lenses" and says you should consider an impact-resistant lens.
He takes you to the optical where you see each wall covered with eyeglasses. The doctor says an optician will be with you momentarily and welcomes you to start trying on frames. You turn to look at the frame-covered walls and think "Where do I even start??" 
Don't worry, we've got you covered! Here's a guide for picking out glasses, so you know what to do before you even come in for your next exam. 
1. Find out what your glasses are made of
Many of us assume that our eyeglass lenses are made out of plastic. BUT, the type of plastic is what matters. A standard plastic lens material may seem like a good solution at first but has a few drawbacks such as:
Heavier feel

Less eye protection

Less visual clarity
When buying your new eyeglasses, remember to ask your optician about your prescription. They'll have insight into what material will be best for your needs. As a rule, Trivex lenses are a great option that provides you with comfort, eye protection, and clarity.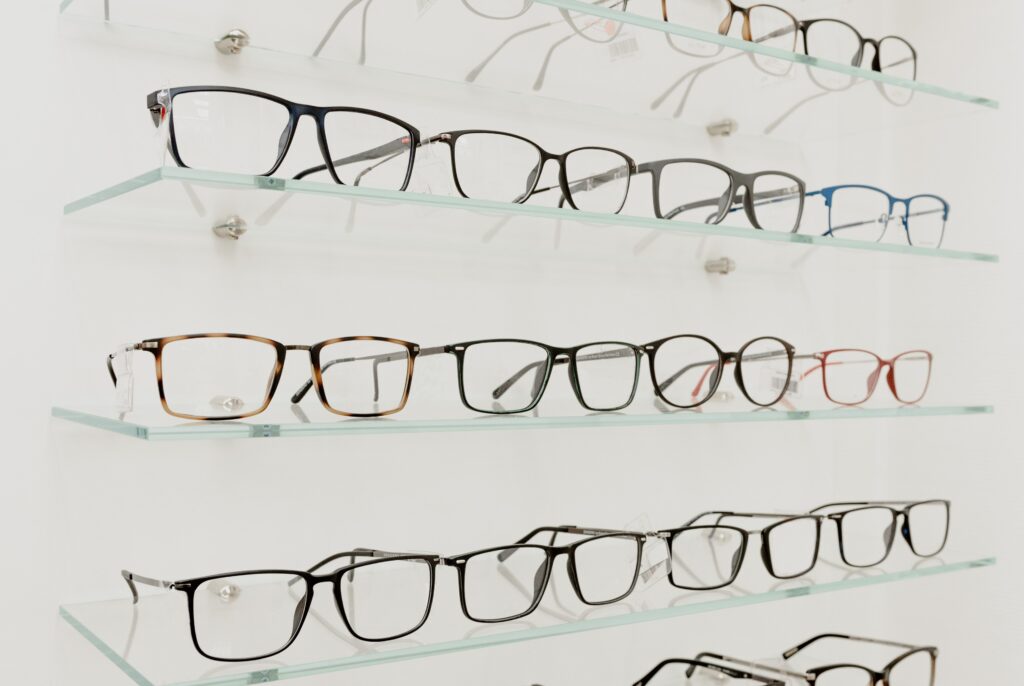 2. Minimize your search in finding the perfect frame 
Whether you like it or not, your glasses say a lot about you. And that can make choosing your new frame either a fun adventure or a frustrating nightmare. With so many styles and brands to choose from, the options can feel overwhelming. One of the easiest ways to ensure you're happy with your new frame is to ask your optician for help.
Telling your optician what you want from your glasses will help minimize your search.
Your optician will be able to narrow down the frame selection based on what you want.

If you want a sporty fit, the optician will know which frames to select. If you're looking for a hypoallergenic frame, they'll know which brands are best for you. If you want a trendy frame, your optician will know exactly which styles are "in vogue".
Your optician is your best source of finding what you're looking for as quickly as possible. So don't hesitate to ask them for help! 
3. Dare to forget glare
We can't say it enough, Anti-reflective lenses are one of the most essential features of a pair of eyeglasses. Anti-reflective lenses offer several benefits including:
Protection from harmful UV light 

Visual clarity from reduced glare on your lenses

Scratch protection and warranty
Anti-reflective coating is the core of the lens and adds more life and durability to your glasses.
If there is one feature to never skip on your new eyeglasses – it's non-glare lenses.
4. Change your mind about transition lenses
Light adaptive lenses (known as transitions) have changed A LOT in recent years. Not merely a gimmick, they're an asset to your new eyeglasses.  Whether indoors or outdoors, transition lenses add the perfect amount of protection from harmful UV rays. 
Transitions change quickly and come in a variety of colors to match your style preferences. Instead of being boring, your glasses can be stylish and convenient.
If you're looking to get the most out of your new glasses, you can't forget about transition lenses!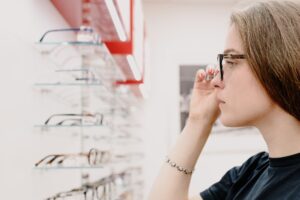 Bonus – Don't settle for less
For most of us, one pair of glasses isn't enough.
If you have a high prescription, having a backup pair of glasses is essential. But if you simply love fashion, it can feel limiting to have only one pair of eyeglasses.
Regardless of your reason, two pairs of glasses are ALWAYS better than one!
At Vision Source Titusville we're happy to work with you to help you get the MOST out of your glasses. And we always offer savings when you get additional pairs of glasses!
Whether you need eyeglasses or contact lenses, vitamins or eye drops, or a combination of all of them, we're here to help!
Schedule with us today, to get started on your journey towards healthy vision.